I wanted to do an article on scale sequencing as I feel a lot of players are not sure how to go about practicing a scale. There is more to playing a scale than just trotting up and down, not only does this get boring and uninspiring, but it is also very limiting and can make our playing start to sound very predictable and dull. When playing music, we don't always hear notes going up and down in an even and straight line, we sometime use different interval gaps to make things sound different. If we just go up a scale in the order of the notes then we know what is coming next. One way to spice this up is to skip intervals so that the notes become more spread out and less predictable.
There are essentially two main types of sequencing, intervallic and numeric. I am going to outline both of these types and also explain them in detail.
We will be using the C major scale, three note per string pattern throughout this article. Although, we can use these sequences with any scale of our choosing.
Here is the scale pattern we are working from:

Intervallic Sequencing
Intervallic sequencing is basically where we skip notes in the scale. The first example is called intervals in 3rds, which essentially means to skip to the third note each time as opposed to the second note which we normally would do. We are starting on the first note of the scale then skipping to the 3rd note from that point. Once we have done this, we will then repeat the same process starting from the second note of the scale, playing the second scale note and jumping to the 3rd note in the scale from that point. Then we do the same thing from the third note of the scale, and so on.

Now we are going to do the exact same thing, only this time using 4th intervals. We start at the first note of the scale again and then skip to the 4th note in the scale from that point, then do the same thing from the second note of the scale and so on.

Next up we have 5ths, 6ths, 7ths and octaves.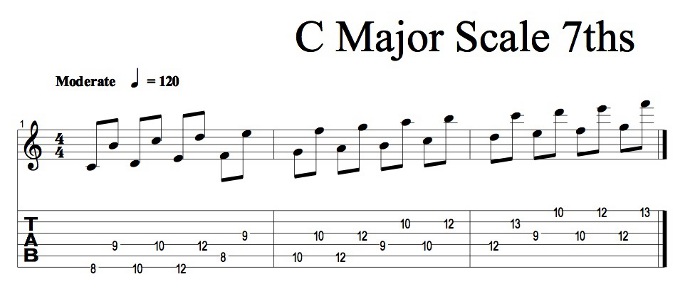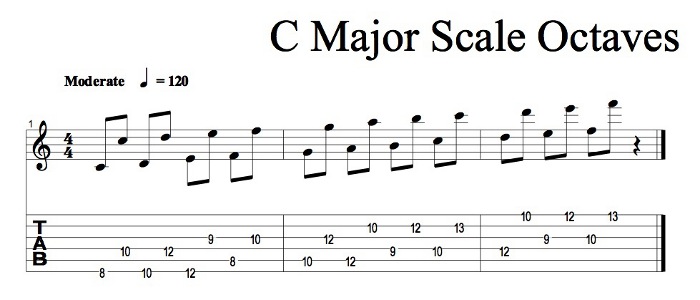 The wonderful thing about all these sequences is that they teach us to know our scales in much greater detail, as well as help us work on our technique in both the picking hand and the fretting hand and help us spice up our improvising.
Numeric Sequencing
Numeric sequencing is where we take a number, this time let us say 4. Then we go up the scale that many notes starting from the first note. We then repeat the process starting from the second note of the scale, go up 4, then the same starting from the third note of the scale, and so on.
We can choose any number we like, it is a fun way to spice your scales up a little. Here are examples with 3s, 4s and 5s.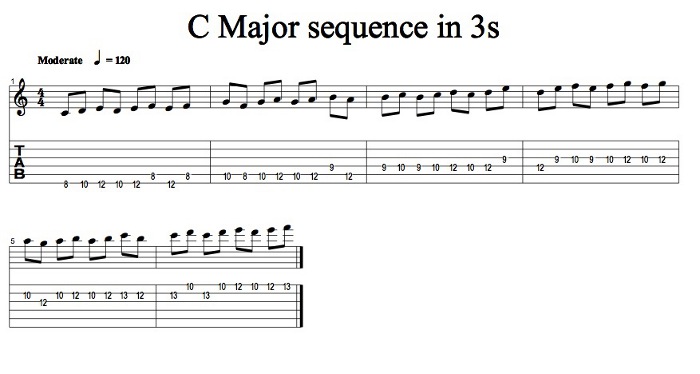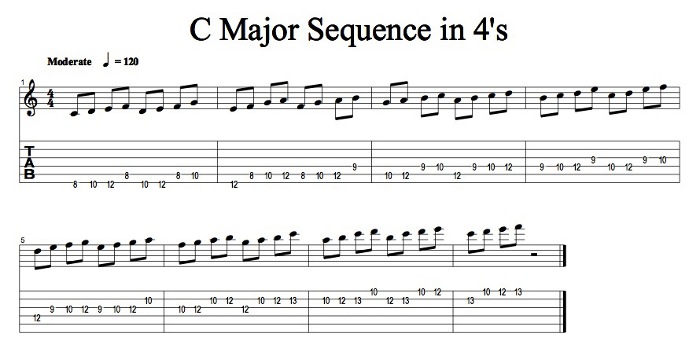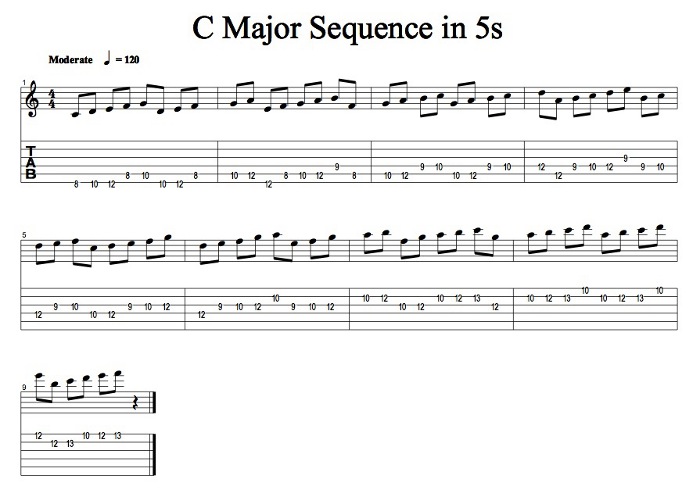 Wrap Up
I encourage you just to simply learn the tabs initially and then try to make logic out of them later. I really wanted to explain the logic of them to you so you can understand where the term 5th and 6th come from when describing intervals so that you can be a better informed musician. This will also help you figure things out for yourself and understand where things come from. There is a lot of music to be found inside a scale and hopefully this is an eye opener for you, just be aware that this is just the tip of the iceberg and that a plethora of music is waiting to be unlocked inside each and every scale you play. All it takes is a little knowledge and a lot of imagination.