Gary Moore was born Robert William Gary Moore, 4 April 1952, in Belfast, Northern Ireland. Gary is famed for his emotional and expressive style of guitar playing. Although mainly known as a blues player, Moore's playing is filled with rock influence and has a lot of great technique too. There is a lot to be gained from studying a player like Gary, as he also makes great use of various melodic devices and scales to really give a more sophisticated take on blues, especially over slow ballad type pieces. Many people forget Moore's albums from the early 80s and I really suggest you check them out, here you will see another side of Gary's playing, a harder hitting rock guitarist with a strong blues influence. In this article I will mainly focus on his most known style of blues. Don't forget that sound and feel is very important when it comes to the blues; its not all about fast shredding you know! Good luck!
In this article I will teach three licks that represent the style of Gary Moore, complete with tablature and audio.
The Licks
Lick 1
- This lick really highlights Moore's ability to play over a slower tempo and really hit strong chord tones that bring out a real melodic flavor. Be sure to analyze the relationship of the notes to the chord and make sure those bends are accurate.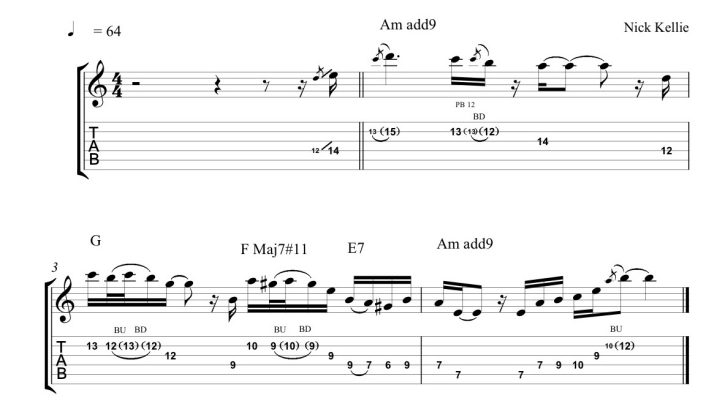 Lick 2
- Here is an example of Gary's arpeggio rhythm guitar work. This example is played in a 12/8 feel, ensure you get a smooth connection between the chord shapes and keep solid timing in your right hand.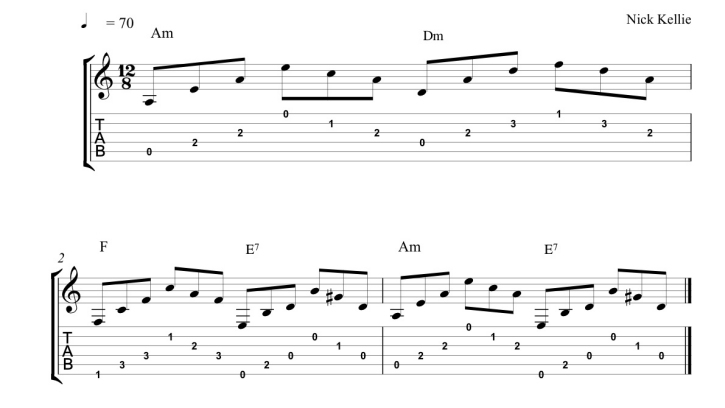 Lick 3
- Here we have an example of a classic blues turnaround. As well as learning this lick, I suggest you also study the chord changes involved here, they really give a sense of completion to any standard 12 bar blues chord progression.