Introduction
As you have been following along with Jason's "Your Home Studio" article series and have started to lay down your own stuff, you're probably starting to realize that you need to get your rig together and tackle the basics so that you can start making more music. Sure, there are mic collections, speakers, headphones, desks (and this list goes on) but nothing stops you dead in your creative tracks more often than being new to a recording software program (or worse yet, having the wrong program for your musical goals). Most people have some sort of computer based recording system these days be it Audacity, Garageband, Sequel etc. You may do just fine noodling around with these programs to help you in your guitar practice (a fantastic idea by the way), but if you want to head down the path of making your music and recordings count, you'll need to transition to a program that is more powerful. There are many options out there. If you refer to Jason's 3rd article, you'll see a list of different pro-grade software packages that all do pretty much the same things in different ways.
In this article series, I am going to be dealing with the industry standard: Digidesign's Pro Tools. With this first article, I intend to introduce and explain some of the different ways you can get in to a Pro Tools system. In later articles, I will be sharing simple tips and tricks that will help you in your practicing, mixing, writing and ultimately, your development as a guitarist and musician!
The Options
Pro Tools has long been seen as the ultra high-end solution for music making, and for a long time, it was. These days however, Pro Tools comes in four different flavors at different price points. Pro Tools "Essential" starts at $150 with bundled hardware. Pro Tools M-powered can be obtained for as little as $250 (Sometimes less if you can find a bargain). Pro Tools LE runs between $400 and $2700, and Pro Tools HD can cost you anywhere between $10,000 and $200,000 depending on the system you choose.
Why the huge differences in price for a software program? Pro Tools has never JUST been a software program. It has always been presented as a software/hardware combination. There are software differences in features and expandability as you step up from Essential to M-powered and LE to HD, but the primary reason for the insane price jumps is the hardware. With any Pro Tools system, gone is the practice of using your computers internal sound card to make music. Pro Tools insists that you use their approved hardware along with their software for a perfectly matched package. Some may find this limiting, but for the most part, it is quite freeing. Every Pro Tools system is designed to be compatible from the hardware to the software right out of the box so you spend far less time fussing around with issues. Where this can be a bit of a pain is if you have already purchased a hardware interface that you are happy with. Pro Tools will not run with just any hardware interface and will most likely not work with the product you have already purchased (unless it is made by M-Audio or Digidesign). With Pro Tools, it is always a package deal.
Pro Tools Essential is the most basic starter Pro Tools package. Here you are limited to 1 of 4 different hardware interfaces with 1 input at a time for recording. For guitarists, I recommend the FastTrack interface. Pro Tools Essential software is limited to 16 total tracks and 8 midi/instrument tracks. It also has no upgrade path for higher end versions of Pro Tools. While there are several other limitations, this package is still a huge improvement over any of the "free" options that come with your computer and still offers you a chance to learn the industry standard of digital music creation.
When you purchase a Pro Tools M-Powered system, you are purchasing the M-Powered software along with a hardware component from M-Audio. These interfaces talk to your computer primarily through a standard USB or Firewire connection and allow you to get 2 to 16 inputs at the same time. With M-Powered systems, you have a great variety of hardware to choose from, so if you like shopping, and want more choices, this is a good level to be at. Currently, the M-Powered and LE software are nearly identical. You can have up to 48 tracks in a session, more instrument and aux tracks than you know what to do with, and now with Pro Tools 8, you have tons of great drum, synth and other instrument sounds to help you craft songs around your guitar playing and writing.
Pro Tools LE takes a step up in hardware quality. The conversion process from your instrument into your computer sounds better and is handled with more style than the M-Powered line. You also have a greater variety of higher end mixing control surfaces available to you when you go to expand. Pro Tools LE is where most people tend to land because it also offers the tightest support base of all the Pro Tools systems.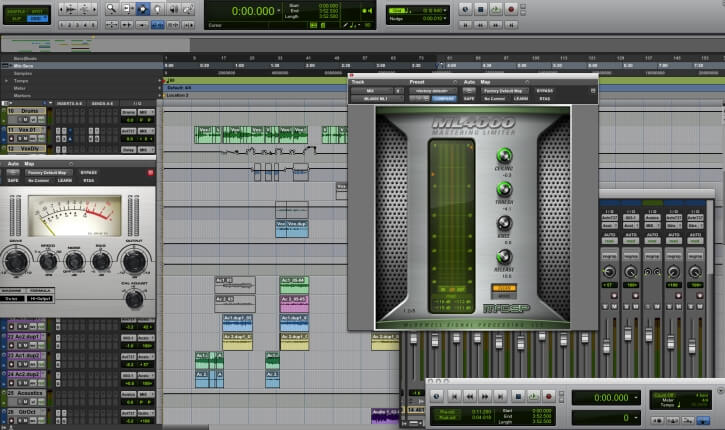 With either LE or M-Powered you have tremendous power at your fingertips whether you're a beginner or a seasoned pro. These systems tend to grow with you as a musician and can spark a great deal of creativity will all of the included sounds and options.
Pro Tools HD is for the professionals. If you are operating a commercial studio or doing sound for movies, these systems are for you. With the software, you can have up to 192 tracks at the same time, and there are a number of work-flow enhancements aimed at the power user. The hardware is refined, extremely high quality and includes special DSP cards that are installed into your computer to help offload processing power. This means your computer never really slows down or chokes if you have things configured correctly – even under the most intense loads.
Having used HD for a number of years along side LE systems, I can safely say that LE is more than enough for any guitarist or band to record an exceptional sounding project. Sure, HD sounds better, but with the right knowledge, LE or M-Powered can do the job very well. With the incredible power of modern computers, you can still have 40+ tracks going with lots of great sounds and tricks happening at the same time.
The Computer
The computer really plays an equal part in any recording experience. It can either be a wonderful companion or your worst enemy. The odds are, if you have a computer that was built within the last 4-5 years, you are probably safe, at least from a compatibility standpoint (unless you're thinking HD), but I will do my best to cover some things here that even the websites don't cover. There's nothing like personal experience when it comes to making sure others don't suffer!
So, Mac or PC? These days, the answer really is: EITHER! Both are capable of running monstrous musical sessions, and both do it well. There are definite advantages to both, and while you can spend all day on web forums reading outrageous arguments for or against either side, I will spare you that with a simple and honest pros/cons list.
Mac
Pros
Better support.
Less hardware variations/compatibility.
Industry standard.
Less susceptible to viruses.

Cons
Expensive.
Performance gap in product line.
Most models are not very expandable.
Most models are not easily serviced.
PC
Pros
Can be 1/2 the cost for the similar hardware.
Customizable for multipurpose needs.
Greater variety of software available.
PCs are serviced on every street corner.

Cons
Tons of hardware variations/configurations.
Support varies highly.
Much more susceptible to viruses.
Not as "out of the box" convenient.

A few items on this list are worth talking about a little more if you are in the market for a Pro Tools computer. The main theme among the differences is the more variety/less variety issue. This is both a pro and a con for either side. With a Mac, since there is less to choose from, there are going to be less compatibility issues. Digidesign works very closely with Apple before approving every specific machine, so it is pretty easy to find a computer that is guaranteed to perform well. Digidesign also works very closely with Microsoft to ensure compatibility with their software, but there is no way, with the zillions of PC manufactures, that Digidesign can offer the same hardware support for a Windows-based system.
This limited selection is also a clear problem for Apple because there is so little to choose from in the mid-level product range. The iMac is a great computer and is the closest thing to a midrange computer, but it is not easily expandable or serviceable. If you go up to a Mac Pro, you're probably going to be spending close to $3000 by the time your done. Laptops are a little less extreme with regards to the variety and serviceable issue because laptops are inherently one dimensional and non-serviceable/less upgradeable by nature.
Price is a huge deal. When compared with a Mac Pro, a comparably built PC will cost you about half the $$$. Laptops are a similar story.
Which ever route you go, whether your purchasing new or giving some love to your existing computer, you will do yourself a huge favor to stick to these minimum hardware suggestions:
- Intel dual core processor.
- 2GB of RAM.
- 2 500GB hard disks. External Firewire drives are fine, USB 2.0 drives do not work as well.
- 512MB dedicated video card.
- A monitor with a minimum of 1024x768 resolution, preferably 15 in or greater.
These are certainly not the hardware requirements, but in my experience, you will do much less fighting with your computer if it meets the above specs. It may work with less, but it might not be fun. When it comes to processors, many people are still successfully using PowerPC Macs and having a great time with them. Unfortunately, the latest version of Pro Tools is not supported for those machines, so if you'd have to find an earlier version if you are looking to utilize any computer from that family.
Operating systems bring up some issues, especially with updates and changes coming so frequently. On a PC, your safe with either XP or Vista. At the time of this article being written, Windows 7 is not officially supported, and thus, I would not recommend it. If I had to choose between XP and Vista, I would choose XP because it is a lot less of a load on your computer, which means more system resources can be dedicated to Pro Tools. On the Mac side, I would recommend staying on Leopard (OS X 10.5) for as long as you can. There is an unsupported version that "works" on Snow Leopard, but Apple and Digidesign still have a lot of work to do!
My policy has always been: don't get the latest and greatest, and you'll spend more time making music and less time working through technical issues. This is especially true in the computer world. This presents a bit of a problem if you're buying a new computer though. Most computers are shipping with either Windows 7 or Snow Leopard. There are many outfits on the internet that can ensure you get the hardware and the software you need for a GREAT recording setup. I recently ordered a Mac Pro from www.PowerMax.com because they ensured a new machine would ship with Leopard instead of Snow Leopard. Many PC companies are still shipping machines with Vista or XP also.
The odds are, you probably already have a computer and intend to stick with it for this first go around with Pro Tools. Just make sure to load it up with as much RAM as you can, try to get as close to my recommended specs as possible and take a trip to www.digidesign.com to make sure there are no glaring problems with your current computer.
One more note, and this one is important! If you are going to add RAM to your computer, please do yourself a favor and order from a reputable company. I, personally, have had many problems with cheap memory. I have never had any problems with RAM ordered from www.crucial.com. Also, I have had great luck with Seagate hard drives both external and internal. Other manufactures have been very hit and miss! You will pay a little more, but you will have far fewer headaches!
I hope you have enjoyed this first article. I realize that not everyone is going to go out and purchase Pro Tools and start using it on a regular basis, but if you already have a setup that you want to learn more about or your ready to take the plunge and start making more music with Pro Tools, this article series will be right up your alley. Even if you are using another very capable recording software package, you may find the content in these articles useful from a mixing/editing/arranging point of view.
In the coming issues, I will be covering basic Pro Tools setup ideas and techniques, as well as tips and tricks for making your music sound better and helping you work more efficiently.