History
Christian Fredrick, or C.F. Martin was born in Markneukirchen Germany in 1796 and descended from a long line of woodworkers and cabinet makers. He became apprenticed to another man by the name of Johann Stauffer, a well known guitar-maker at that time, and after completing his training returned home to his native Germany and opened his own guitar shop. C.F. Was soon immersed in a controversy that had been raging for some time between woodworkers like himself and violin makers who sought fervently to maintain the rights to produce all musical instruments exclusively. Although craftsmen upheld the rights to produce guitars, Christian Fredrick Martin decided that the current political air surrounding the production of guitars was too restrictive and he opted to set up his luthier business in New York City in 1833. Five years later, he relocated once again to Nazareth Pennsylvania where the Martin headquarters remain to this day.
Composition
The Martin DC-16 RGTE Aura has a solid Sitka Spruce wood top with tortoiseshell pick guard, "bold herringbone" rosette, and solid East Indian Rosewood back and sides. The neck is composed of Spanish Cedar with black Micarta wood fingerboard and bridge. Micarta is a beautiful and extremely durable hard wood often used in the production of knife and gun handles but found less frequently in instruments. The compensated saddle is made of the bone-substitute white Tusq and the nut is composed of Corian, an acrylic polymer often used in kitchen counter tops.
The scale length of the DG-16 RGTE is 25.4", width at the nut is 1 11/16" and the width at the twelfth fret is 2 1/8". The fingerboard contains 20 frets all of which are accessible in lieu of the cutaway design. The body is sealed in a beautiful polished gloss finish on the top, while the back and sides are finished with a Satin treatment. The headstock is Martin's solid-square taper and is finished with chrome enclosed machines with small buttons. Of note here as well is the bracing pattern which is the hybrid "X" scalloped pattern which tends to be incorporated with guitars utilizing a mortise/tenon neck joint. Mortise and tenon joints have been used for countless years by furniture makers, masons and blacksmiths and is both simple in construction yet incredibly strong. This method of joint construction is usually used when joining two pieces together at or near a 90 degree angle and often involves the use of pins or glue to join the two pieces together. Included as well with this Martin is the Fishman Aura on-board electronics system. Aura is a high-end electronics system which has made a huge leap in acoustic sound reproduction in terms of authentic sound replication without distortion. The Aura system includes 3-band programmable equalization, feedback cancel, built-in tuner, both XLR as well as 1/4" outputs, an AC adapter, as well as 50 available locations to program and save settings.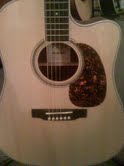 Pricing
The Martin DC-16 RGTE Aura is currently available for anywhere between $1749 and $2349 and can be purchased either on-line or through local music sales outlets. All of the materials utilized in this fine instrument are of the highest quality as are the construction standards. In addition you have over 170 years of Martin experience and wisdom backing up each and every one of their fine products.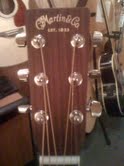 Playability
The Martin DC-16 RGTE had a soft, warm sound to it and had exceptional balance between treble, mid and bass values. Treble seemed to be slightly predominant though which is common with guitars bearing Spruce tops. The guitar also had a crisp, solid feel to it and had perfect action all the way up the neck. On the down side, I felt that this Martin did not have the resonance qualities that I've experienced with other Martins, or other guitars for that matter, at this price level. However, over time, a quality finish will usually improve the overall sound quality of the guitar, as the wood and sealant age and season. Also, there are always slight differences between guitars, even those of the exact same model and physical characteristics so another guitar with the exact same model number may play quite different. Hence, even with the slight lack of resonation that I experienced playing the guitar unplugged, I still feel that the DC-16 RGTE is an exceptional guitar and a great deal.