History
As the smoke cleared above lush verdant green fields it revealed that a small group of Spanish generals had indeed succeeded in overthrowing the government established by the Second Spanish Republic, and many long-standing symbols of Spanish freedom lay in ruins upon the red earth, including a company known as Salvador Ibanez. Salvador Ibanez was well-known for producing high-quality Spanish acoustic guitars, some of which were being imported by a Japanese company by the name of Hoshino Gakki, a book company that had been established in 1908 and worked to branch out into the area of musical instruments. Hoshino Gakki had been importing Salvador Ibanez guitars since 1929 but after the company was destroyed they were in a position to make a monumental decision. They opted to buy the Ibanez Salvador name and begin making their own Spanish guitars, initially utilizing the Salvador Ibanez name but later shortening it to simply Ibanez.
We then fast forward our story to 1957 when Ibanez became known for producing wild and esoteric designs emulating other company's designs such as Hagstrom (Swedish instrument company) and Eko (Italian electric guitar producer). The 1960's brought Ibanez to a period in which they focused upon copying notable American guitar companies including Gibson, Fender and Rickenbacker and which unfortunately resulted in numerous lawsuits against Ibanez. It came as no surprise that the Ibanez company began producing their own designs, including the Iceman and Roadstar series, and have continued to do so to this day. Ibanez continues to thrive and produce unique and remarkable guitars that incorporate such novel aspects as locking-tremolo bridges, slimmer head stocks, 2-octave fingerboards as well as unique and brightly-colored finishes.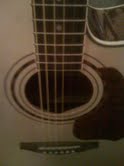 Composition
The Ibanez PF 5 ECE has a beautiful cutaway Spruce top with tortoise shell pick guard, inlaid abalone rosette and Mahogany neck, back and sides. The fingerboard and bridge are composed of Rosewood and the saddle is compensated for easier and more reliable tuning. The PF 5 ECE has a dreadnaught cutaway body finished in a high-gloss finish which shimmers in the light. The cutaway allows for easy access to all 20 frets of the Rosewood fingerboard and makes playing the upper positions a snap. The guitar also features Ivorex 2 nut and saddle, and Advantage bridge pins. The headstock is neatly finished with Ibanez gold die-cast tuners and is adorned with the letters "PF," setting it off from other Ibanez acoustics and giving the guitar a unique countenance.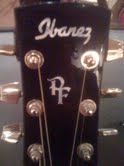 The PF 5 also includes some great electronics as part of the package price. The Fishman Sonicore pickup is mounted on the inside of the guitar and is responsible for sending vibration and sound into the Ibanez AEQ-SST Shape Shifter Preamp, known in acoustic sound circles for its accurate sound reproductive ability. An on-board tuner is included as well for tuning on-the-fly. Of note as well here is the instrument's inclusion of both XLR and 1/4" outputs which gives the owner some options as to how the signal from the guitar is sent to other devices on stage or in a studio setting. In general, the XLR output tends to be a cleaner signal (and slightly louder) and less prone to the noise sometimes associated with 1/4" outputs, but many experts would tell you that the signal is very similar between the XLR and the 1/4".
Pricing
The Ibanez PF 5 ECE is currently available for around $300 and is accessible either through on-line merchants or by-way of your local music store. There's a lot of bells and whistles included with this model and sometimes this can be a red flag as to the overall quality of the instrument itself. This is not the case though with the PF 5 and between the quality of the guitar as well as all of the included accessories, this seems to be a great buy.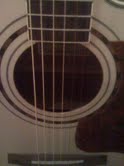 Playability
The PF 5 has a nice feel to it and a good blend of lows, mids and highs. The guitar felt solid especially for a guitar at this price level. The main downside I observed was a tendency for the guitar's tone to be a little muddy, opaque. Resonance was on the weak side as well although when I plugged it in, I found that some of the problems could be remedied with some minor adjustments. This scenario seems to be a common issue amongst entry-level acoustic electrics where the manufacturer throws so much gear at you for a small amount of money that it's hard to say no, despite the fact that the guitar itself may have some issues. Nevertheless, the Ibanez PF 5 ECE really stands up well in terms of playability and added features, especially when compared to other guitars in the same price range.