History
Nashville Tennessee: Smoky Mountains, Music City, Elvis and his land of Grace, Jefferson Street, Beale, the West End, Belle Meade, Grand Ole Opry and the heartbeat and home to country music and the Delta Blues, Nashville is a leafy sprawl of suburban metropolis hosting over 600,000 in human inhabitants and situated neatly on the banks of the Cumberland River. But Nashville is more than just the homestead for country and blues, more than just the culmination of thousands of musicians hopes and dreams collected neatly upon the eternally-spiraling and concentric circles of a now-antiquated dusty but never-forgotten record album, it is also the home of Gibson.
Orville Gibson, born 1856 in Chateaugay, New York, had noticed with some considerable consternation that Mandolins being produced and played during that period were poorly constructed and had the same features as "a potato bug." Consequently he set about constructing a different shape, a better design that was characterized by an arched top and bent sides which produced a richer, more mournful sound when played. The previous mandolins had been made flimsily of strips of wood where Gibson's were constructed of solid woods. Orville Gibson was granted a patent for his mandolin design in 1898, the only patent he would receive in his short life as he passed quietly into the night in 1918.
A gentleman by the name of Lloyd Loar, a genius in his own right as a performing artist and part-time luthier, stepped in to the Gibson organization initially as an acoustic engineer and eventually as a design consultant, and helped to cultivate Orville's ideas while introducing many of his own as well. Loar was one of the first to amplify instruments electrically and worked to bring the finer qualities of the violin into the guitar such as F-holes, graduated soundboards and longer necks, features which can be found on some of Gibson's guitars to this day.
Composition
The Gibson Songwriter Deluxe Studio EC has a solid cutaway AA grade Sitka Spruce top with double-ring abalone rosette, Indian Rosewood back and sides and Mahogany neck. The bridge is composed of dark ebony as is the fingerboard which Gibson has termed "big sky" ebony. The fingerboard has an unusual feature: a rolled edge. This unusual beveling treatment of the fingerboard gives the neck and fretboard a very different feel from any guitar that I've played and an unparalleled level of smoothness and ease-of-play. The fretboard also features split-parallelogram mother of pearl inlays which add beauty as well as a hint of class to this amazing guitar.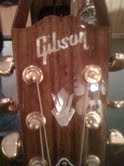 The Songwriter Deluxe falls under Gibson's classification of the "square shoulder" small dreadnought which was first introduced in 2003, but utilizes bracing patterns that they've been incorporating since the 30's. Consequently this model is a reflection of Gibson's long term dedication to strength and quality in construction, as well as their commitment to developing new and exciting body styles and designs. The Songwriter Deluxe also comes equipped with the L.R. Baggs Element Active Pickup system which is distinguishable by an under-saddle transducer which has proven to be more durable than ribbon types of pickups. Top off the whole system with an on-board preamp and removable volume control and you've got the Songwriter Deluxe.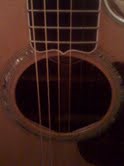 Pricing
The Gibson Songwriter Deluxe is currently available for anywhere between $2549 and $3049 and can be acquired either through on-line vendors or at local music stores. This is truly a beautiful instrument that incorporates impeccable materials with Gibson's years of expertise in the field of fine instrument production.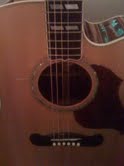 Playability
The Songwriter Deluxe has great response from all ranges of the sound spectrum with ringing trebly highs and rumbling lows. The combined sound of lows, mids and high highs is sweet and smooth and balanced to the tee. Resonance is great as well and fills the space nicely with Gibson sound. The neck has an unusual feel to it in lieu of the beveled edge but this is certainly a superficial detail that could (and likely would) be adapted to over time. When plugged in the guitar is even more sweet to the ears and to the touch as well and I found it hard to set down. In general I found the Gibson Songwriter Deluxe to have beautiful appointments as well as playability and despite the lofty price tag, I feel it's worth the price.