History
As the smoke cleared above lush verdant green fields it revealed that a small group of Spanish generals had indeed succeeded in overthrowing the government established by the Second Spanish Republic, and many long-standing symbols of Spanish freedom lay in ruins upon the red earth, including a company known as Salvador Ibanez. Salvador Ibanez was well-known for producing high-quality Spanish acoustic guitars, some of which were being imported by a Japanese company by the name of Hoshino Gakki, a book company that had been established in 1908 and worked to branch out into the area of musical instruments. Hoshino Gakki had been importing Salvador Ibanez guitars since 1929 but after the company was destroyed they were in a position to make a monumental decision. They opted to buy the Ibanez Salvador name and begin making their own Spanish guitars, initially utilizing the Salvador Ibanez name but later shortening it to simply Ibanez.
We then fast forward our story to 1957 when Ibanez became known for producing wild and esoteric designs emulating other company's designs such as Hagstrom (Swedish instrument company) and Eko (Italian electric guitar producer). The 1960's brought Ibanez to a period in which they focused upon copying notable American guitar companies including Gibson, Fender and Rickenbacker and which unfortunately resulted in numerous lawsuits against Ibanez. It came as no surprise that the Ibanez company began producing their own designs, including the Iceman and Roadstar series, and have continued to do so to this day. Ibanez continues to thrive and produce unique and remarkable guitars that incorporate such novel aspects as locking-tremolo bridges, slimmer head stocks, 2-octave fingerboards as well as unique and brightly-colored finishes.
Composition
The Ibanez AEG 25 ET features a quilted Maple wood cutaway top with gorgeous abalone rosette, and Mahogany back and sides. The neck is composed of Mahogany as well, and the bridge and 20-fretted fingerboard are both made of Rosewood.
The nut and saddle of this model are made of the miracle substance known as Ivorex II, a compound known to be stronger and more durable than bone. The use of Ivorex also contributes to the production of higher highs and lower lows with less mid range response.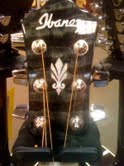 This particular model has a beautiful black transparent high-gloss finish which is striking to the eye and dazzling to the mind! The headstock is black as well and is completed with Ibanez chrome die-cast tuners. Of note here as well is the inclusion of both balanced 1/4" (high impedance) as well as XLR (X-tremely low resistance) outputs giving the player more options as to the signal output of the guitar. XLR outs are traditionally used for microphone outputs but can be found on some acoustic guitars as well, and on less expensive boards (powered monitors for example) the sound difference between the 1/4" and XLR outputs is negligible. Ibanez has also thrown in the Ibanez AEQ-SST Shape Shifter Preamp which provides good sound reproduction at a reasonable price. Throw in an on-board tuner and you're ready to rock and roll!
Pricing
The Ibanez AEG-25 ET is currently available for around $349 can be acquired either on-line or through your local friendly musical store. There's no doubt that Ibanez has gone to great lengths to furnish the quality materials and workmanship necessary to produce this appealing instrument with many of the additional features that acoustic electric players demand. And for the money, this particular acoustic electric really shines.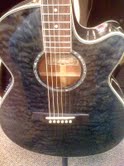 Playability
This guitar plays remarkably well especially when compared to other guitars within the same price bracket and having the same or similar features. The guitar has a smaller yet comfortable feel and is easy to hold and strum all the way up to the 20th fret. On the down side, as an acoustic instrument the guitar lacks resonance and sadly this seems to be a common downfall amongst entry level acoustic-electrics. It does perform better than some I've played in terms of acoustic resonation, but it certainly doesn't stack up to full-bodied acoustics. On the plus side though, the AEG-25 ET sounds fantastic when plugged in and can be adjusted to compensate for any shortcomings that the instrument might have as an acoustic guitar.