History
The following is an historical account of a remarkable man by the name of Charles Kaman. Kaman came into this world kicking and screaming in the year 1919 in the District of Columbia, Washington, and 18 years later found his way into the school of Aeronautical Engineering at Catholic University. He earned his bachelors degree and graduated magma cum laude, an honor and truly respectable accomplishment for any man or woman. He was also awarded honorary doctorates from the Universities of Connecticut, Hartford and Colorado respectively.
Kaman took his education, his insight in Aeronautical engineering and with a paltry $2000 and the help of two friends he founded what is now known as the Kaman corporation. Kaman is most renown for his insights concerning the stability and control of helicopters, more specifically his work on the addition of ailerons or flaps that were added to the edges of the rotor blades to improve stability. His brilliant work was well known especially during the Vietnamese and Korean conflicts where Kaman's H-43 Husky flew more rescue missions than all other helicopters combined. But what does all this have to do with guitars you might be asking yourselves?
Well, in addition to Charles Kaman's groundbreaking work in aeronautics as well as his monumental contributions to the advancement of helicopter engineering, he is also the inventor of the Ovation guitar. Kaman's understanding of vibration in helicopters compelled him to apply his wisdom to the construction of guitars, and to create a unique design that no one had seen yet: the rounded-back guitar.
They found that the rounded back increased the guitar's projective capability and also helped to create a better balance between bass and treble. In 1966 Charles Kaman brought the first Ovation production model to life known as the Balladeer. Ovation also produces other fine guitars such as the Applause models.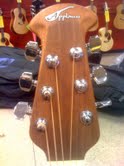 Composition
The Applause AA-21-4 acoustic is an entry level Korean-made guitar with a Spruce top, composite fiber neck and lyrachord back and sides. Lyrachord, according to Ovation, improves projection quality and volume without raising the price of the instrument and is used as well in their more expensive Ovation guitars. The guitars also includes a compensated saddle to assure sound intonation and tuning longevity, and an adjustable truss rod for necessary neck/ action adjustments.
The AA-21 is Applause's Summit Series which is 25 1/4 scale length, and measures 1 11/16" at the nut. The body is categorized as "deep bowl" which simply implies a larger, broader backside which assists in sound-production and resonance. The top of the guitar comes in two finishes, natural and black, and is sealed with a polyurethane application. Keep in mind that poly finishes like the one found on this model are extremely strong, yes. But they also do not allow for moisture to wick away properly from the body of the guitar and may eventually cause problems like neck hump, if not cared for properly.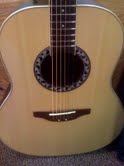 Pricing
Pricing for this nice little acoustic is anywhere from $150 to $188. The guitar can be purchased either on-line or through your local music store and comes ready to play. This is an entry level guitar utilizing fair materials, but is really a pretty good deal in lieu of the construction and overall quality of the instrument. And for the money you really can't go wrong!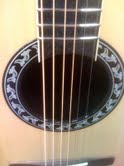 Playability
I was really pleasantly surprised with the AA-21 six string especially at the price offered. There was a decent blend of highs, mids and lows and strumming the guitar was actually quite relaxed and smooth. The action wasn't perfect at the upper frets but this could certainly be easily rectified with a truss rod adjustment. Resonance was on the mediocre side, I would say, but at this price level there's no way you're going to have the resonation qualities of a guitar costing two or three times as much. For the money, this really is a fantastic buy especially if you're looking for your first acoustic, or a guitar that you can bang around a little around the campfire.