History
As the silver sun set over the sleepy village of Nakatsugawa Gifu Japan, a small family of woodworkers bent their weary backs to repair and produce fine hand-made instruments. The year was 1959 and the small instrument shop located at the foot of Mount Takamine was collectively bent upon the production of guitars that would eventually come to be known as "Takamine." In 1968 a gentleman by the name of Mass Hirade who was known for his expertise as an artisan and luthier as well, joined forces with the small company with the intent of helping to improve the quality and marketability of Takamine guitars, and hopefully increase sales and distribution as well. Hirade took over design and development of Takamine's well-known classical guitar which to this day has been the most popular of all of their wares worldwide. With Hirade's help, Takamine was able to expand their sales overseas and become a more active enterprise on a global level.
During the mid 1970's, Hirade became the president of Takamine and made a move to join forces with an American-based company by the name of Kaman Music Corporation. Takamine subsequently began a new phase of world-wide production and distribution that brought the company notoriety throughout the world. During this same period of time, a problem that had been vexing professional acoustic musicians came to a head and compelled the Takamine Corporation to step up and produce what is known as the "palathetic" pick-up. Because an abundant number of successful musicians were playing larger and larger venues, many of these same players struggled to attain accurate and acceptable sounding amplification and sound reproduction from their acoustic guitars. The "palathetic" pickup is designed to be isolated from the vibration of the body of the guitar which allows for less feedback and a clearer representation of the string's resonance. Takamine's design has become the industry standard for acoustic-electric guitars to this day and is endorsed by such big-time players as Bruce Springsteen and Jackson Browne.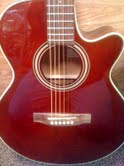 Composition
The Takamine 260 C-WR (or Wine Red) features a Red Spruce cutaway top with abalone multi-ringed rosette and white binding. The back and sides are composed of Nato wood, a reddish-brown wood harvested from the Mora tree and known for its strength and durability. The 20-fretted fingerboard is made from Rosewood and speckled nicely with abalone in-layed dots. A compensated saddle is also included for more accurate tuning and intonation, and chrome tuners add vibrancy and shine to the headstock.
Body style of the EG 260 is deemed the FXC Cutaway by Takamine and is smaller than a dreadnought sized body. Consequently this model might be a little more comfortable to play for those with smaller hands and features, or those who simply feel more comfortable with a smaller scaled guitar. Takamine TP 4 electronics are also included in this package which feature a gain knob, an on-board chromatic tuner, a low battery light as well as treble, mid-range and bass equalization.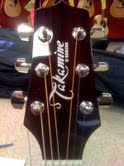 Pricing
The Takamine EG 260 is currently available for around $400 and can be purchased on-line or through local vendors. This is a beautiful guitar that allows the beginning to intermediate player the option of playing either acoustically, or electrically and includes the gear necessary to do so. Mid-level materials are employed and constructed under Takamine's strict standards, and they offer a limited lifetime warranty covering manufacturer related defects like neck warp and body issues.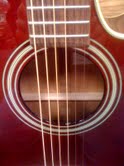 Playability
The Takamine EG 260 C-WR has a smaller feel to it as mentioned previously. Consequently it is easy to play and fret all the way up to the 20th fret. The guitar has a nice blend of treble, mid and bass tones but lacks resonance qualities. Once plugged in and equalization levels are set the guitar has a much nicer sound to it and warms up in tone considerably. Once again as we see with acoustic-electric guitars in this price range, something is lost when so much gear is included, and in this case it's the guitar's ability to project well as an acoustic instrument.