Keen-of-mind inventor and innovator Clarence Leonidas Fender, more commonly known as Leo Fender, was born on August 10th, 1909 in sunny Southern California. Raised by the owners of a lucrative orange grove, Leo dabbled with electronics at an early age showing insight and promise. By the ripe old age of 13 years he had developed a passion for working with radios and soon thereafter established a radio repair shop out of his parent's home. Later, while in the process of studying to earn a degree in accounting Leo Fender continued to educate himself in the area of electronics although never participating in any formal education in the field.
Years later after suffering the economic blows of the depression era and losing several jobs, Leo Fender started his own radio repair shop by the name of "Fender Radio Service" and was later contracted to build a number of PA systems for local musicians and band leaders. He later opted to join up with a man by the name of Clayton (Doc) Kauffman who was an inventor himself as well as a lap steel guitar player. Kauffman, while working with Rickenbacker, had invented the "Vibrola tailpiece" or what eventually came to be known as the vibrato or tremolo. Fender and Kauffman eventually united to form a new company by the name of K and F Manufacturing Corporation and they set out together to build amplified Hawaiian guitars and amplifiers. Many years later and after the design and production of many now-famous instruments including the Telecaster and the Precision bass, Leo Fender sold his beloved company to CBS for $13 million dollars. And although he passed away in 1991 and never learned to play the guitar himself, Leo Fender has left a lasting impression upon the music industry the likes of which will never be forgotten.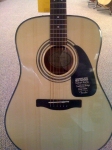 Composition
The Fender DG-8S six-string acoustic guitar boasts a solid Spruce top with pick guard, laminated Mahogany back and sides and a Rosewood fingerboard. The bridge is also composed of Rosewood and utilizes a compensated saddle. The guitar is sealed with a natural gloss poly urethane finish which creates a beautiful resplendent look to the guitar. The head stock is streamlined and boasts the use of covered chrome machine heads as well as the enduring Fender logo. The body style of the Fender DG 8-S is classified as a dreadnought and the scale length is 25.3" (643mm). The fingerboard contains 20 frets, 14 of which are accessible and the neck is 1.69 inches (43mm) at the nut. This guitar also employs the use of X-bracing, and a duel-action truss rod which will help to keep the neck straight and the guitar in tune through the years.

Price
The Fender DG-8S is currently available for around $200 in local music stores and also comes with a multi-language instructional video, gig bag, strings, tuner and picks. A strap button has also been conveniently pre-installed as well which is unusual for a guitar at this price level. It seems that Fender has gone well out of their way to provide an all-inclusive package for the beginning guitar player to have everything he or she could want or need to begin their musical journey. In addition you have 100 years of Fender quality and tradition to back up the instrument which to many, speaks volumes.

Playability
The Fender DG 8-S has a great feel to it, especially for an entry level guitar. Although it has a nice representation of treble tones, it also seemed to have a higher level of mid-range tones especially when compared to guitars in the same price range. This guitar played surprisingly well and had an overall balanced feel and sound as well. When compared side-by-side with comparably priced guitars, this model had a notably richer sound and in general seemed to be a much more solid instrument. And although a certain degree of resonance is lost to the use of laminates and poly finishes, the guitar held its own. Truthfully, when considering the impressionable sound quality of the instrument, its great playability and the extras that Fender has thrown in for good measure, the Fender DG 8-S is a fantastic value.