History
From the early age of seven Robert Godin had already acquired a passion for the guitar, as well as some notable skills as a young player. By the time he had reached the ripe old age of fifteen he was integral to the operation of his aunt's music store and utilized his skills to both teach the finer points of guitar as well as repair damaged instruments. By 1971, after setting out on his own Godin had discovered the tiny Canadian village knows as La Patrie and began the inception of his first line of guitars known as the Norman Line.
The company's ultimate goal was to produce guitars having some of the same qualities as more expensive guitars, but at prices that were more accessible to the working musician. In particular, Godin focuses on production of fine tops utilizing old growth wood and shimmering varnish finishes in order to produce the best sound and most beautiful acoustic guitars possible. Godin guitars now produce a number of separate lines including Norman, Art and Lutherie, Seagull, Simon and Patrick, La Patrie, Richmond and TRIC each of which is handcrafted in Canada.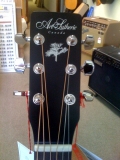 Composition
The Art and Lutherie Folk Cedar Black acoustic guitar utilizes a beautiful solid cedar top with pick-guard and three-ply laminate Wild Cherry wood sides and back. All of their Cedar wood is pressure tested to ensure the maximum rigidity which in turn contributes to the guitar's overall harmonic vibration. Godin is also renown for its use of Cherry wood and is proud of its eco-friendly manner of gathering already-fallen specimens in an effort to avoid clear cutting the forests of Eastern Canada. The Folk Cedar Black boasts a Silver Maple neck, Rosewood bridge with compensated saddle as well as a Rosewood fingerboard. The saddle and nut are both composed of a material known as Tusq which is used as a synthetic substitute for bone. Tusq has been researched as being a superior replacement to bone especially in terms of durability as well as harmonic clarity and sustain. Bone has also been found to be a potential health risk especially when ground into a fine powder and subsequently many manufacturers are avoiding its use in guitars and switching over to Tusq.
The Folk Cedar Black measures 19.6" long by 14.76" wide (at its widest point) and is approximately 4.5" deep. Width at the nut is 1.72" and the fingerboard consists of 21 frets, 14 of which are accessible. The body is sealed in a spectacular semi-gloss varnish finish which not only gives the guitar a magnificent countenance, but also helps the guitar to wick away moisture and avoid the unfortunate condition knows as "neck hump."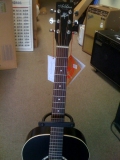 Price
There seems to be some variability concerning the price on this model of guitar ranging from $300 to $370, although the manufacturers suggested retail falls closer to the latter figure. The Folk Cedar Black is also available either through local retailers or on-line and some local vendors are even throwing in a hard-shell case as a bonus. As usual, the Godin name is emblematic of fine quality instruments at reasonable prices, and this guitar is no exception. In lieu of the high standards and superlative materials employed, the price is more than reasonable.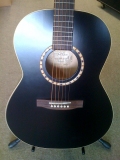 Playability
To be utterly and completely honest, this guitar blew me away! The Folk Cedar Black had great action from the first fret to the fourteenth and had a light, yet solid feel to the touch. Sound production was smooth, and had a great balance between treble tones, mid-range and bass response as well. In addition, the guitar's ability to sustain notes was comparable to guitars costing twice as much or more. In general, I was more than impressed with the Art and Lutherie Folk Cedar Black, and would recommend it to anyone seeking a well-made acoustic guitar that is both beautiful, yet relatively easy on the pocketbook as well.