History
Torakusu Yamaha's father was a fearless Samurai warrior in the Kii clan but young Torakusu was raised in a more liberal environment and spent his days studying astronomy and engineering. By the time he had reached the age of nineteen, he had opened his own watchmaking and repair shop and subsequently spent long and arduous hours meticulously devising and repairing fine watches, while the amber Japanese sun of the Kii Province set in rapt immobility. The shop failed miserably (as many do) and Torakusu went to work repairing medical tools as well as other gadgets that he could get his hands on. He was approached by a small school in a neighboring village to repair their Mason and Hamlin organ, and in doing so educated himself concerning the finer points and entrails of such an instrument. And although this was an isolated incident for Torakusu, he was undoubtedly deeply affected by his experience and labored to know more about the finer points of organ construction. In 1887 Torakusu began manufacturing his own organs under the name Yamaha Fukin Organ Manufacturing Company and ten years later after measurable success the company was renamed Nippon Gakki or Japanese Musical Instrument Company. Yamaha eventually journeyed to the United States to learn more about piano construction and subsequently Nikkon Gakki began constructing fine upright pianos in 1900 to be followed by their first grand pianos in 1902. When Torakusu passed silently into the night in 1916, Nippon Gakki had become renown world-wide for their fine pianos and keyboard instruments.
Nippon Gakki spent the next few decades diversifying into myriad different areas including motor cycles, sporting goods, circuitry, home electronics amongst others and finally opened the first music school in 1954 named appropriately Yamaha Music School. Six years passed and the Yamaha Corporation of America was established producing a complete line of musical instruments including guitars. In 1987, Nippon Gakki was changed back to the name Yamaha in honor of its founder as well as in celebration of the anniversary of it inception. And although Yamaha has branched off in as many directions as the branches of the redolent Cherry Blossom tree, they continue to prevail and produce exceptionally high quality instruments and guitars to this day.
Composition
The Yamaha F325 NT has a beautiful laminated Spruce top with a tortoise-shell pick guard and Meranti back and sides. Meranti wood is often used as a less expensive replacement for Mahogany and has a tendency to chip if not cared for properly. The neck is composed of red-brown Nato and the fingerboard and bridge are made up of rosewood.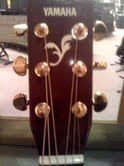 The Yamaha F325 falls under the classification of the dreadnought body and measures 25" long by 4 and 9/16" deep. Width at the nut is 1 and 11/16" and the rosewood fingerboard has 20 frets, 14 of which are accessible. The tuners are die-cast chrome and the body of the guitar is sealed in a glamorous gloss which is available in either of two finishes, Natural or Tobacco Sunburst.
Pricing
The F325 NT is available for anywhere between $129 and $159 and can be acquired either through on-line vendors or through your local music mercantile establishment. Yamaha even throws in a vinyl covered hard shell case for the asking.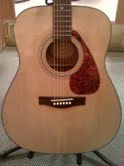 Playability
There truly is only one word that comes to mind when I think about the playability of this fine instrument... astounding! From the moment I picked it up, to the second I first let my pick glide seemingly-effortlessly across the glimmering strings I knew this was one of the most astounding entry level guitars I had laid my hands upon. To begin with, the guitar is well balanced and has a substantial feel to it as opposed to other guitars I've played in the same price range which seemed to be way too light and flimsy. It also had great resonance with good clarity and representation from treble, mid range and bass values. Even the action was remarkable from the 1st to the fourteenth. Without a doubt, the F325 NT felt and played like guitars costing two and three times as much but without the expenditure. If you're looking for a great starter guitar and don't want to lay down too much of your hard-earned moolah, the Yamaha F325 might be for you.