History
Christian Fredrick, or C.F. Martin was born in Markneukirchen Germany in 1796 and descended from a long line of woodworkers and cabinet makers. He became apprenticed to another man by the name of Johann Stauffer, a well known guitar-maker at that time, and after completing his training returned home to his native Germany and opened his own guitar shop. C.F. Was soon immersed in a controversy that had been raging for some time between woodworkers like himself and violin makers who sought fervently to maintain the rights to produce all musical instruments exclusively. Although craftsmen upheld the rights to produce guitars, Christian Fredrick Martin decided that the current political air surrounding the production of guitars was too restrictive and he opted to set up his luthier business in New York City in 1833. Five years later, he relocated once again to Nazareth Pennsylvania where the Martin headquarters remain to this day.
Composition
The Martin GC MMV has a handsome solid Sitka Spruce top with pick guard and solid East Indian Rosewood back and sides. The guitar also has a Mahogany neck and a dark ebony bridge and fingerboard with pearl dot inlays. The body of this guitar also utilizes non-scalloped X-bracing which is used to free up more space on the inside surface of the top and helps to create a richer, more projective sound. The use of non-scalloped bracing allows the top to vibrate more freely and is often used by Martin, as in the CC MMV, in combination with a dovetail neck joint which has high tensile strength and requires no additional fasteners.
The GC MMV falls under the classification of the dreadnought body and measures 20 and 1/8" by 15 and 5/8" wide (at its widest point). The body is 4 and 7/8" deep and the neck measures 1 and 11/16" wide at the nut. The beautiful ebony fingerboard contains 20 frets, 14 of which are readily accessible. The body itself is sealed with a nitrocellulose gloss finish which not only gives the guitar a magnificent appearance but also allows for the necessary degree of moisture exchange to avoid neck hump as well as other potentially destructive problems, and helps to ensure that the guitar will age in the manner it was intended to. Proper aging can dictate whether a guitar will improve over time or gradually deteriorate, hence the materials and method employed in the sealing process can literally make or break the guitar in terms of longevity as well as overall long-term playability. The Martin GC MMV also has gold tuners, a 19-ply rosette surrounding the soundhole and white binding that enhances the Spruce top.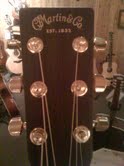 Pricing
The Martin GC MMV is currently available for around $1400 and can be purchased either through on-line merchants or through your local friendly music store. If you're not familiar with the Martin organization and the incredible playability and quality of their instruments then it may behoove you to go to a local musical mercantile establishment and play their guitars. Only then will you grasp the full weight of how truly amazing and worthwhile these instruments truly are.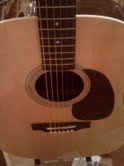 Playability
The CC MMV felt awesome from the moment I picked it up and held it on my lap. The sound was full, rich and bassy with great mid-range and treble tones as well. Some Martins tend to lean more toward the treble side but this guitar had a great balance between bass and treble. The action was no less than magnificent (although this is certainly something one can usually rectify if one desires to do so) from the open frets to the 14th and played as smooth-as-silk. The Martin CC MMV also had remarkable resonation and filled the room with glorious-Martin sound. True, this guitar may set you back a few more ducats than others in the under $1000 range, but the full rich sound and playability will undoubtedly substantiate the additional expenditure and with over 170 years of expertise and experience to back up the Martin name, how can you go wrong?