History
Keen-of-mind inventor and innovator Clarence Leonidas Fender, more commonly known as Leo Fender, was born on August 10th, 1909 in sunny Southern California. Raised by the owners of a lucrative orange grove, Leo dabbled with electronics at an early age showing insight and promise. By the ripe old age of 13 years he had developed a passion for working with radios and soon thereafter established a radio repair shop out of his parent's home. Later, while in the process of studying to earn a degree in accounting Leo Fender continued to educate himself in the area of electronics although never participating in any formal education in the field.
Years later after suffering the economic blows of the depression era and losing several jobs, Leo Fender started his own radio repair shop by the name of "Fender Radio Service" and was later contracted to build a number of PA systems for local musicians and band leaders.
He later opted to join up with a man by the name of Clayton (Doc) Kauffman who was an inventor himself as well as a lap steel guitar player. Kauffman, while working with Rickenbacker, had invented the "Vibrola tailpiece" or what eventually came to be known as the vibrato or tremolo. Fender and Kauffman eventually united to form a new company by the name of K and F Manufacturing Corporation and they set out together to build amplified Hawaiian guitars and amplifiers. Many years later and after the design and production of many now-famous instruments including the Telecaster and the Precision bass, Leo Fender sold his beloved company to CBS for $13 million dollars. And although he passed away in 1991 and never learned to play the guitar himself, Leo Fender has left a lasting impression upon the music industry the likes of which will never be forgotten.
Composition
The Fender CD 360 SCE has a solid Spruce top with tortoise shell pick guard and embellished delicately with a multi-ringed rosette. The fingerboard and bridge (with compensated saddle) are both composed of Rose wood and laminated Mahogany wood comprises the neck, back and sides of the guitar. The neck of the CD 360 SCE also features a duel-action truss rod and the body is reinforced with scalloped X-bracing which increases the guitar's overall projection quality and is often seen in more expensive guitars. The headstock features the famous "Fender" logo and is complimented with chrome die-cast machine heads.
The body of the CD 360 SCE measures 25.3" long and is approximately 4" deep (at the front) and 5" deep (at the rear). Width at the nut is 1.625" and every fret of the 20-fretted fingerboard is accessible. Of note here as well is the Fishman Presys system with on-board preamplifier. This system includes a number of different features often coveted by the acoustic/electric player including volume control, bass mid-range and treble adjustment, phase, an integrated tuner, and even a low-battery indicator light.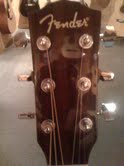 Pricing
The Fender CD 360 SCE is currently available for anywhere between $399 to $599 depending on where you purchase it and is obtainable directly through Fender or via your local music store. Once again Fender has compiled a complete package for the aspiring acoustic electric player which includes not only a quality instrument, but all of the bells and whistles as well.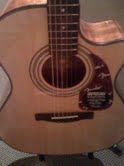 Playability
Here are a few of the words that came to mind when I picked up this guitar: astounding, amazing, bargain, pleasantly surprising! The guitar played with a clean-crisp sound that was on the treble end of the spectrum but still had a good balance with mid and bass tones as well. Resonation was good, the action was fantastic and the fingerboard felt solid and comfortable. In general this guitar felt like it was solidly-built and had the sound quality to match. And frankly, between the application of solid materials in construction as well as the awesome playability of these instruments I have found that Fender's entry to intermediate price level guitars to be some of the best values on the market today. The Fender CD 360 SCE is certainly no exception to this rule and seems like a fantastic buy.