History
As the silver sun set over the sleepy village of Nakatsugawa Gifu Japan, a small family of woodworkers bent their weary backs to repair and produce fine hand-made instruments. The year was 1959 and the small instrument shop located at the foot of Mount Takamine was collectively bent upon the production of guitars that would eventually come to be known as "Takamine." In 1968 a gentleman by the name of Mass Hirade who was known for his expertise as an artisan and luthier as well, joined forces with the small company with the intent of helping to improve the quality and marketability of Takamine guitars, and hopefully increase sales and distribution as well. Hirade took over design and development of Takamine's well-known classical guitar which to this day has been the most popular of all of their wares worldwide. With Hirade's help, Takamine was able to expand their sales overseas and become a more active enterprise on a global level.
During the mid 1970's, Hirade became the president of Takamine and made a move to join forces with an American-based company by the name of Kaman Music Corporation. Takamine subsequently began a new phase of world-wide production and distribution that brought the company notoriety throughout the world. During this same period of time, a problem that had been vexing professional acoustic musicians came to a head and compelled the Takamine Corporation to step up and produce what is known as the "palathetic" pick-up. Because an abundant number of successful musicians were playing larger and larger venues, many of these same players struggled to attain accurate and acceptable sounding amplification and sound reproduction from their acoustic guitars. The "palathetic" pickup is designed to be isolated from the vibration of the body of the guitar which allows for less feedback and a clearer representation of the string's resonance. Takamine's design has become the industry standard for acoustic-electric guitars to this day and is endorsed by such big-time players as Bruce Springsteen and Jackson Browne.
Composition
This beautiful acoustic electric guitar features a solid Cedar cutaway top with spectacular abalone rosette and Koa wood back and sides. Koa is a Hawaiian wood which is similar in strength to Black Walnut and is often used in the production of Ukeleles and surfboards. The neck of the EG 544 is comprised of Mahogany while the fingerboard and bridge are both made of Rosewood. This guitar also features a compensated saddle which is now becoming more and more common as a standard feature on new acoustic guitars.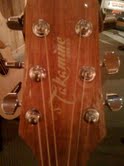 The Takamine EG 544 SC falls under the classification of the Grand Auditorium body and measures 15.25" wide at the bow, 4" deep and 1 and 3/4" at nut.
The Rosewood fingerboard has 20 frets all of which are accessible and features pearl dot inlays. On board electronics are also included on this model and feature Takamine's now famous palathetic pick-up which allows for crystal clear sound even at higher volumes.
Pricing
The Takamine EG 544 SC is currently available for around $600 and may be purchased either on-line or through your small town vendor. This guitar is truly beautiful, between the radiant Koa wood and the gorgeous rosette and features not only a resplendent facade but solid infrastructure as well. In lieu of the impeccable materials employed as well as the craftsmanship involved, the EG 544 seems well worth the paltry $600 price tag.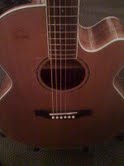 Playability
The Takamine EG 544 SC has a remarkable sound with great balance between treble mid and bass tones, and seems to weigh towards the treble end of the spectrum. The guitar resonates well and has a full, throaty sound to it that fills the room nicely. When plugged-in the guitar has great sound as well and gives you the full opportunity to fine tune your equalization levels and really dial in your sound to the tee. The Takamine EG 544 seems to have all bases covered for an acoustic electric in this price range and plays well as an acoustic instrument as well as an electric.