History
As the silver sun set over the sleepy village of Nakatsugawa Gifu Japan, a small family of woodworkers bent their weary backs to repair and produce fine hand-made instruments. The year was 1959 and the small instrument shop located at the foot of Mount Takamine was collectively bent upon the production of guitars that would eventually come to be known as "Takamine." In 1968 a gentleman by the name of Mass Hirade who was known for his expertise as an artisan and luthier as well, joined forces with the small company with the intent of helping to improve the quality and marketability of Takamine guitars, and hopefully increase sales and distribution as well. Hirade took over design and development of Takamine's well-known classical guitar which to this day has been the most popular of all of their wares worldwide. With Hirade's help, Takamine was able to expand their sales overseas and become a more active enterprise on a global level.
During the mid 1970's, Hirade became the president of Takamine and made a move to join forces with an American-based company by the name of Kaman Music Corporation. Takamine subsequently began a new phase of world-wide production and distribution that brought the company notoriety throughout the world. During this same period of time, a problem that had been vexing professional acoustic musicians came to a head and compelled the Takamine Corporation to step up and produce what is known as the "palathetic" pick-up. Because an abundant number of successful musicians were playing larger and larger venues, many of these same players struggled to attain accurate and acceptable sounding amplification and sound reproduction from their acoustic guitars. The "palathetic" pickup is designed to be isolated from the vibration of the body of the guitar which allows for less feedback and a clearer representation of the string's resonance. Takamine's design has become the industry standard for acoustic-electric guitars to this day and is endorsed by such big-time players as Bruce Springsteen and Jackson Browne.
Composition
The Takamine EG 523 SC has a lovely solid Spruce cutaway top with tortoiseshell pick-guard finished in a glimmering gloss finish and flamed Maple back and sides. Surrounding the soundhole and luring the eye seductively is a gorgeous multi-ring abalone rosette with unusually bright and remarkable colors. The bridge and fingerboard are composed of Rose wood and the latter is accented with resplendent Abalone inlays all the way up to the 19th fret. The EG 523 also features a split saddle which can help to compensate for differing string lengths as well as differentials in tension between wound and steel strings. Inevitably though the split saddle is simply another way to mitigate potential intonation issues that may arise and cause tuning problems.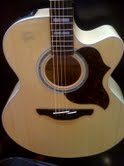 The Takamine EG 523 is classified as a Jumbo cutaway guitar and is 25.3 inches (644 mm) in length and 1.67 inches (42.5 mm) width at the nut. The Rosewood fingerboard contains 20 frets all of which are accessible and the neck features a two-way adjustable truss rod. The guitar also features the TK-40 preamp, built-in equalizer and chromatic tuner which is included in the price.
Pricing
The Takamine EG 523 SC is currently available for anywhere between $699 and $999 depending on where you choose to shop but you'll need to find a distributor as Takamine does not deal directly with the public. Regardless, the price is reasonable considering the quality of the product at hand. Takamine has gone well out of their way to give the aspiring acoustic electric aficionado a beautiful piece of musical craftsmanship that has both a quality sound as well as the on-board gear to put it all together.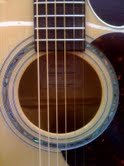 Playability
This more than full-bodied guitar had a great full-bodied sound which was a pleasant surprise to me! There was a good balance between bass, mid and treble tones but the guitar definitely weighed more on the treble end of the spectrum. The guitar played easily and made playing upper frets a snap. In addition, the Takamine EG 523 SC had great resonation and overall awesome sound, and seemed to be a fantastic value especially in lieu of the high quality materials and electronics employed in construction. In general I was very impressed with the Takamine EG 523 and would recommend it to fellow acoustic/electric players looking for a great full-bodied guitar.