History
Torakusu Yamaha's father was a fearless Samurai warrior in the Kii clan but young Torakusu was raised in a more liberal environment and spent his days studying astronomy and engineering. By the time he had reached the age of nineteen, he had opened his own watchmaking and repair shop and subsequently spent long and arduous hours meticulously devising and repairing fine watches, while the amber Japanese sun of the Kii Province set in rapt immobility. The shop failed miserably (as many do) and Torakusu went to work repairing medical tools as well as other gadgets that he could get his hands on. He was approached by a small school in a neighboring village to repair their Mason and Hamlin organ, and in doing so educated himself concerning the finer points and entrails of such an instrument. And although this was an isolated incident for Torakusu, he was undoubtedly deeply affected by his experience and labored to know more about the finer points of organ construction. In 1887 Torakusu began manufacturing his own organs under the name Yamaha Fukin Organ Manufacturing Company and ten years later after measurable success the company was renamed Nippon Gakki or Japanese Musical Instrument Company. Yamaha eventually journeyed to the United States to learn more about piano construction and subsequently Nikkon Gakki began constructing fine upright pianos in 1900 to be followed by their first grand pianos in 1902. When Torakusu passed silently into the night in 1916, Nippon Gakki had become renown world-wide for their fine pianos and keyboard instruments.
Nippon Gakki spent the next few decades diversifying into myriad different areas including motor cycles, sporting goods, circuitry, home electronics amongst others and finally opened the first music school in 1954 named appropriately Yamaha Music School. Six years passed and the Yamaha Corporation of America was established producing a complete line of musical instruments including guitars. In 1987, Nippon Gakki was changed back to the name Yamaha in honor of its founder as well as in celebration of the anniversary of it inception. And although Yamaha has branched off in as many directions as the branches of the redolent Cherry Blossom tree, they continue to prevail and produce exceptionally high quality instruments and guitars to this day.
Composition
The Yamaha FG 700 has a solid Sitka Spruce top with a tortoiseshell pick guard and multi-ringed rosette. Nato wood makes up the back, sides and neck of the guitar and the fingerboard is composed of Rosewood. The bridge is also composed of Rosewood and includes a compensated saddle.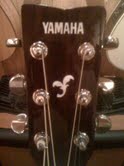 The body of the FG-700 falls under the dreadnought classification of body sizes and is consequently a full bodied, good-sized guitar. The larger body styles tend to create more inner space for sound to resonate and will generally have more volume than smaller bodied guitars. Scale of the guitar is 25 9/16", the body depth ranges from 3 15/16" to 4 5/8" and the width at the nut is 1 11/16". The body is sealed in a high-gloss finish which gives the guitar spectacular sheen and beauty and the head stock is adorned with die cast chrome tuners.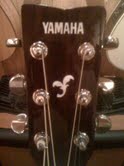 Pricing
This guitar is currently available for around $250 and can be purchased either on-line or through local music stores. As usual, Yamaha has assembled a fantastic deal for the entry level player, or for the intermediate who wants a good-quality campfire guitar, or spare. This guitar could easily be marketed for one to three hundred dollars more but let's not tell the good people at Yamaha that!
Playability
Boom! Great auditory sensations came out of this inexpensive guitar which provided an excellent synthesis between treble mid and bass tones. The sound itself was warm and clear without a hint of muddiness or opacity and the resonance was sensational, especially for a guitar at this price level. The action was also comfortable and smooth all the way up to the 14th and the guitar strummed easily and without effort. The FG 700 has a substantial, grand feel to it from the moment you first pick it up to your first strum, and the big sound to match. Once again Yamaha has created an inexpensive instrument with the looks and sound of guitars costing hundreds of dollars more, but with a price tag that's more-than-reasonable. Frankly, between the quality materials employed in combination with Yamaha's high construction standards and the amazing price, the FG 700 is a steal.